The use of either low-level near-infrared light or low level laser therapy is a common electro-physical agents in relieving pain for rheumatoid arthritis, osteoarthritis, acute and chronic neck pain and tendinopathy. (Bjordal et.al (2003), Bjordal et al.(2008), Brosseau et al(2005), Huang. et al.(2009), ...... ......


Read more »



The theme is "New Light on Pain". We are very delighted to have Prof. David Borsook from Harvard Medical School, USA and Dr. Roger Goucke from Sir Charles Gairdner Hospital, Australia as our overseas guest speakers. Prof David Borsook is a psychiatrist and a neuroscientist. While Dr. Roger Goucke is the past President of the Australian Pain Society and his main interests include pain in the elderly and difficult cancer pain. In addition, we have invited a number of renowned local expertises including oncologists, pain specialists, orthopaedic surgeons, rehabilitation physicians etc as our local guest speakers. A wide spectrum of pain management (including cancer pain, musculoskeletal pain, pain and life, neuropathic pain, headache, emotion and pain, etc) will be covered in the meeting.



| | | |
| --- | --- | --- |
| Lecture hours | : | Saturday 0800 -1700. |
| Dates | : | September 15, 2012 |
| Location | : | Marco Polo Hong Kong |


A pre-conference workshop: interventional workshop on Pain Management and "Sleep, Mood and Pain Workshop" will be held on 14 September 2012.

Read more »




Through a series of interactive lectures, participants can gain an useful insight into the biopsychosocial model of chronic pain, and the needfor multidisciplinary approach in its management.



| | | |
| --- | --- | --- |
| Lecture hours | : | Friday 7:00 pm - 8:30 pm |
| Dates | : | October 5-19, 2012 (Every Friday) |
| Location | : | Lecture Hall, 4/F., Duke of Wndsor Social Service |

Read more »





ASEAPS 2013, the 5th Association of South-East Asian Pain Societies Conference, brings together scientists, clinicians, pharmacologists, nurses, and researchers in Southeast Asia to learn, share, debate, and discuss the latest developments in pain management.

Organized by the Pain Association of Singapore, this biennial conference will offer participants a fully comprehensive scientific program featuring internationally renowned experts, sponsored and plenary symposia, free papers, poster sessions, and networking opportunities. It also features pre-congress educational sessions including a four-day Pain Management Camp for healthcare graduates, a one-day Interventional Pain Cadaver Workshop, and a one-day Pain Refresher Course.



| | | |
| --- | --- | --- |
| Dates | : | 2 - 5 May, 2013 |
| Location | : | Singapore |


Read more »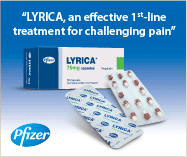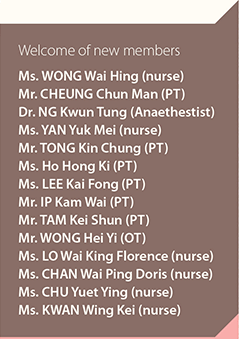 There are many forms of membership plans for our society. Lifetime membership offers single time payment ($3000) and saves the trouble of annual renewal ($300). Benefits of members:
Discounted price on conferences and meetings
Conference grant
Regular newsletters

Please click on: http://www.hkpainsociety.org/ memberships.html for details and membership form.

IASP brings together scientists, clinicians, health care providers, and policy makers to stimulate and support the study of pain and to translate that knowledge into improved pain relief worldwide. Founded in 1973, IASP is the world's largest multidisciplinary organization focused specifically on pain research and treatment.

For more information, including the IASP Application for Membership, please visit: www.iasp-pain.org or contact them at iaspdesk@iasp-pain.org

盡訴心中情癌痛可被明
有人以為當癌痛突然加劇,就代表「時辰快到」;有人以為止痛藥應該只在疼痛時服用;有人擔心止痛藥的副作用太多,寧痛不吃。面對癌痛,不同人有不同的誤解,若要消除誤解,患者和家人好應多與醫生和護士溝通,正確認識癌痛。

很多患者和家屬會誤解, 以為癌症一定會痛, 甚至懷疑醫生的診斷, 不過紓緩醫學專科郭愛玲醫生指雖然大部分癌病患者都會出現疼痛,但凡事總有例外。「根據香港文獻研究指出, 4 4 - 7 7 % 的晚期癌症患者有疼痛問題, 痛楚確實是癌病中常見的現象。不過患癌不一定會疼痛, 而後期癌症也不一定比初期更痛, 因為癌痛的成因與許多因素有關, 癌病發展和痛楚增加並非成正比關係,如腫瘤生長在神經線附近, 即使體積很小,也可以造成很大的痛楚。所以痛楚程度、需要的止痛藥劑量等增加, 也不等於癌症惡化, 患者不需過分擔憂。」......
| | |
| --- | --- |
| | ▲紓緩醫學專科郭愛玲醫生 |