HKPS 2017 Events
30 September – 1 October, 2017 HKPS Annual Scientific Meeting 2017
Annual Scientific Meeting on 30 September 2017: Sheraton Hong Kong Hotel & Towers
Half-day Workshop on 1 October 2017: Queen Elizabeth Hospital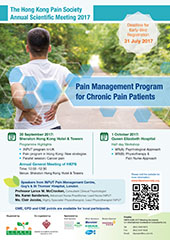 Registration Fee
Registration Category

HKPS Member*

Non-member / Overseas Delegate

Early Bird
(on/before 18 August 2017)

Regular
(after 18 August 2017)

Early Bird
(on/before 18 August 2017)

Regular
(after 18 August 2017)

1-Day Meeting (30 September)

HK$400

HK$600

HK$800

HK$1,000

Half-day Workshop (1 October)

Workshop A – Psychological Approach

HK$800

HK$1,000

Workshop B – Physiotherapy and Pain Nurse Approach

HK$800

HK$1,000
*HKPS Member = Current member of Hong Kong Pain Society (Paid-up member for the year of 2017)
Rules and Regulations:
Registration form without payment will NOT be processed. Please do NOT send cash.
Secretariat will send a letter of confirmation by email upon receipt of your registration form and full payment. Any changes or alterations must be made in writing to the Secretariat.
Refund for cancellation of registration will be made and subject to the following deadline and administration charge.

All cancellations must be made in writing to the Secretariat and the refund will be made after the Meeting.
| | |
| --- | --- |
| On/before 31 July 2017 | 50% of the registration fee |
| After 31 July 2017 | No Refund |
The Programme is subject to change without prior notice. In the event of cancellation of the Meeting, the only liability of the Organizers is to refund all the fees paid.
All enquiries, changes and cancellation should be made in writing to the Secretariat.
HKPS 2016 Events
November 19-20, 2016 HKPS Annual Scientific Meeting 2016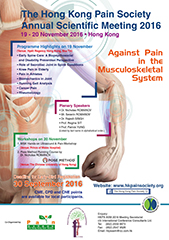 HKPS 2015 Events
October 17-18, 2015 HKPS Annual Scientific Meeting 2015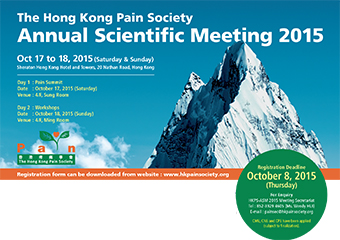 HKPS 2014 Events
5-7 December 2014
Combined Annual Scientific Meeting of Hong Kong Pain Society and 5th Multidisciplinary Musculoskeletal Ultrasound Symposium on Pain Management (MSK US PM) 2014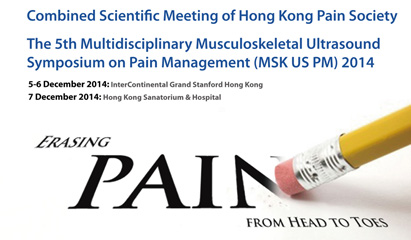 Programme website :http://www.hksh.com/mskuspm
HKPS 2013 Events
21 September 2013 HKPS Annual Scientific Meeting
Chronic Pain : The Mind and The Body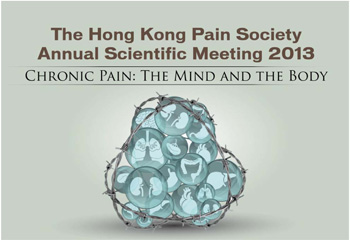 Post-conference workshop poster
Presentation Materials:
Hypnosis for chronic pain management: New findings for clinical efficacy - Prof. Jensen
Motivational Interviewing: It's application on people with chronic pain - Prof. Jensen
Functional GI disorders - Dr. Victoria Tan
Gynecological pain - Dr. TC Pun
Chronic epigastric and non cardiac chest pain - Dr. SH Tsang
The role of physiotherapist in the management of persistent pelvic pain - Ms Brigitte Fung
Functional abdominal pain syndrome- Dr. FH Lo
Male chronic pelvic pain syndrome - Dr. CF Kan
30 July 2013 HKPS Pain Scientific Meeting
Chronic Opioid Therapy for Persistent Non-cancer Pain: Prescription Challenges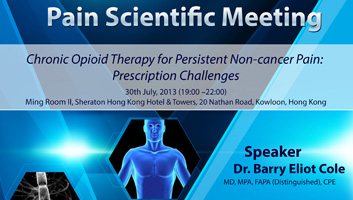 13 May 2013 HKPS Pain Scientific Meeting
Pain Management : its Arts and Science
Date:

13 May 2103, Monday

Time:

6:30-9:30pm

Venue:

Shanghai Room, Level 8, Langham Place, Mongkok, 555 Shanghai Street, Kowloon

Programme:

Registration

Lectures and Q&A:

1. Comorbidities of Neuropathic Pain
Prof. Thomas Toelle, Specialist in Neurology, Technical University of Munich, Germany
2. Psychological aspects of chronic pain and their management
Dr. Ide Chan, Clinical Psychologist, Queen Elizabeth Hospital, Hong Kong.

Dinner

Charge:

Free
For registration, please complete and return the registration form on or before 3 May 2013 For Enquiry, please contact Ms. Heidi Lee at 3428 2214
14 March 2013 HKPS Pain Scientific Meeting
Latest Update of the Management of Chronic Pain

The Hong Kong Pain Society will hold a scientific meeting on 14 March 13 in Ming Room II, 4/F, Sheraton Hong Kong Hotel & Towers, 20 Nathan Road, Kowloon, Hong Kong. Please refer to the attached poster for details. Since seats are limited, registration is required on a first-come, first-served basis. For registration, please download the invitation letter, complete the reply slip in the letter and Fax it back to meeting secretariat at 3929 4668.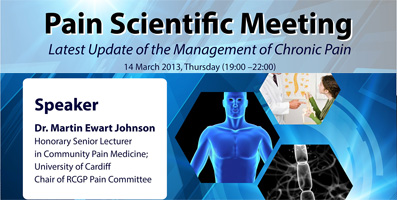 HKPS 2012 Events
15 September 2012 HKPS Annual Scientific Meeting
New Light on Pain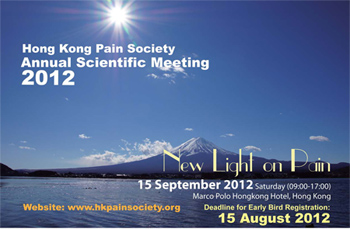 9 June 2012 Pain Genetics Symposium : From Basic Science to Clinical Applications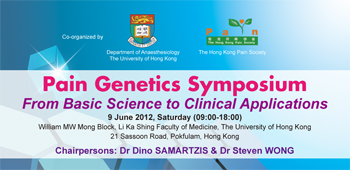 HKPS 2011 Events
10-11 December 2011The Second Multidisciplinary Musculoskeletal Ultrasound Symposium on Pain Management.
16 November 2011 Lecture on 'Pain in Diabetic Neuropathy; Improving Functionality and Quality of Life'
29 October 2011 HKPS Annual General Meeting and Challenges in Neuropathic Pain Workshop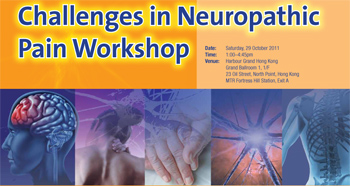 3 September 2011 HKPS Pain Education Series 3
Acute pain in a nutshell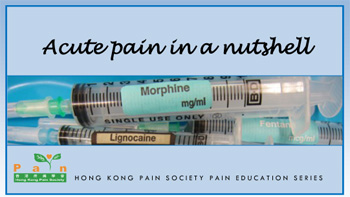 12 May 2011 HKPS Annual Scientific Meeting cum Celebration of HKPS as IASP Chapter
"New Horizon in Pain Management in China and Hong Kong"
Eaton Hotel
12 May 2011
Interventional Pain Workshop
7 & 14 January 2011 HKPS Education Series
Practical Management of Headache
2010 Events
5 - 26 March 2010 HKPS Education Series
Practical Management of Pain in the Neck
Program Details & Registration
24 - 25 April 2010 HKPS Annual Scientific Meeting
"Unravelling the Mystery of Pain"
Intercontinental Grand Stanford Hotel
Workshop 1 - Interventional Workshop
Workshop 2 - Assessment of Neuropathic Pain in Primary Care
Workshop 3 – The Myth of Symptom Exaggeration and Malingering
Presentation Files & Photographs
5 - 6 June 2010 Symposium on Interventional Radiofrequency Therapy For Back Pain
9 - 11 October 2010 The 7th East-West Pain Conference
22 November 2010 HKPS Annual General Meeting
4 - 5 December 2010
First Multidisciplinary Musculoskeletal Ultrasound Symposium on Pain Management
2009 Events
6 March 2009 2nd Annual Symposium of HKSHT
"Peripheral Nerve Injury & Its Disorder"
Prince of Wales Hospital
9am - 5:30pm
28 March 2009 Global Day Against Cancer Pain Meeting
Problem Based Learning Seminar on Cancer Pain Management
Eaton Hotel
11:45am - 4pm
16 - 17 May 2009 Acupuncture in Pain Management
Program Detais & Registration Form
30 May 2009 New Perspective on Diabetic Peripheral Neuropathic Pain Management
Program Details & Registration Form
4 - 8 September 2009
第八屆中?醫學會疼痛學分會學?年會暨疼痛學分會成立二十周年慶祝大會
12 September 2009 Cojoint HKPS & MPNP Scientific Meeting
Pain Management in Daily Practice
23 September 2009 HKPS Lecture
Pathophysiology of Pain
2008 Events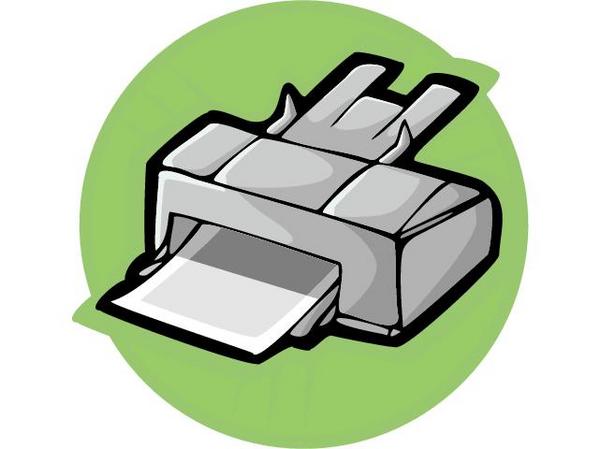 Printable version
Past Events (2006 - 2007)
Full list of events held in 2006/7